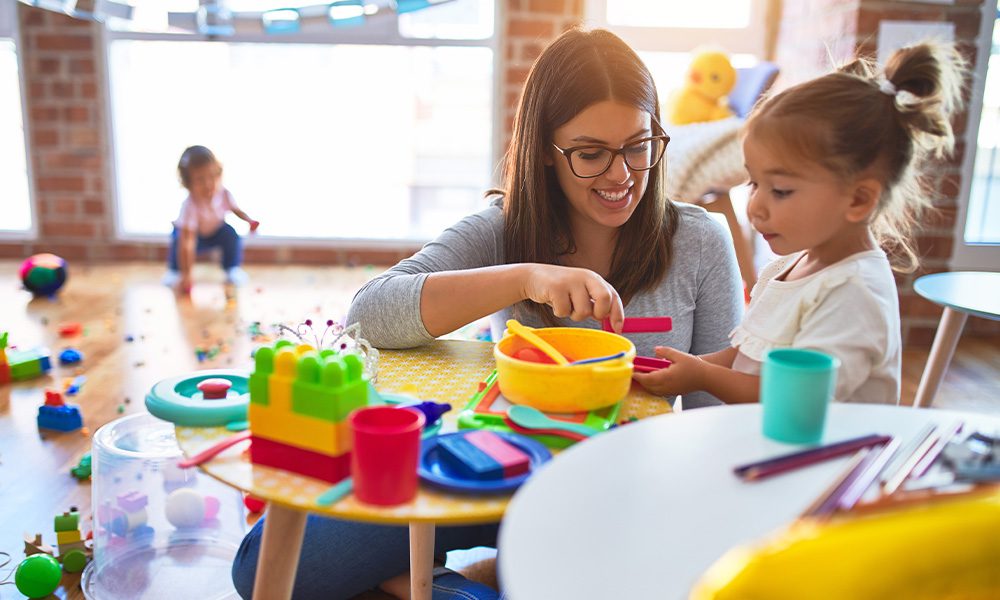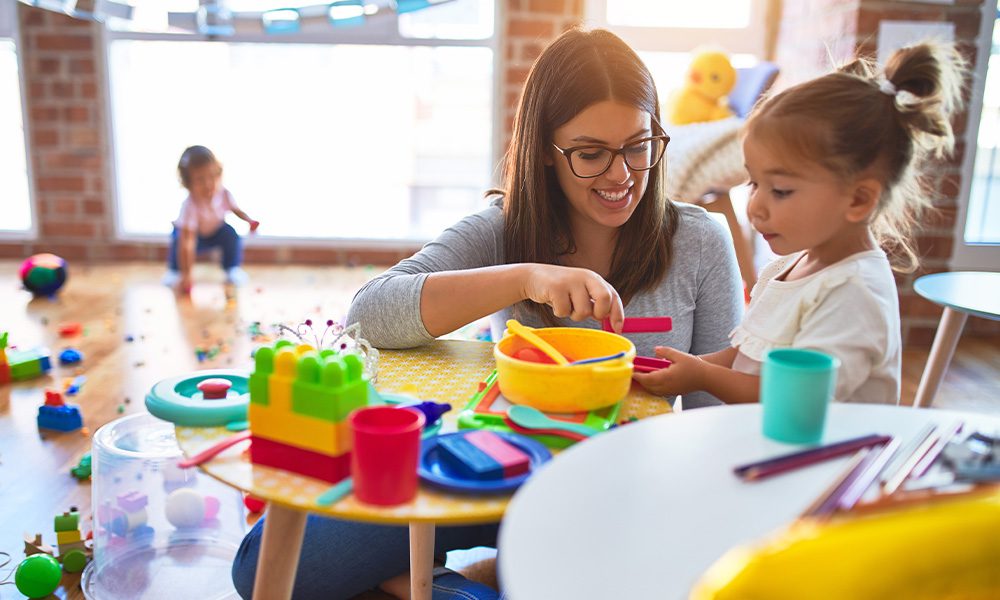 Childcare is an important decision that can sometimes be troubling to navigate for first time parents. How will you know your child will be safe and secure during their stay at the daycare when they are away from home? How will you know if your child's experience is enriching to their development? Knowing what to ask potential childcare facilities can give a parent piece of mind when making their final selection. Kate Jordan-Downs, KinderCare's Senior Director of Education has a few tips and tricks to help parents in their first time selecting a caregiver.
Potential Questions to ask caregivers as a parent who is seeking childcare for the first time:
Safety and Precautions

– a facility should have strict and easy to follow health and safety policies for any accident that may arise while your child is in their care. When being cared for, the child should always be treated with the utmost respect and caring demeanor to ensure their emotional development is steadily growing. Making sure the individuals caring and teaching the children have a clean background is also very important. You want to be able to trust the individuals watching your child for a majority of the day.

How does the individual approach nap time?

Are your caregivers/teachers CPR certified?

When addressing a child, is the demeanor encouraging and caring?

Does the teacher/caregiver have a clean background check?

Has the facility been accused of or been under investigation for any molestation/ abuse incidents with children?

Child's security in themself

– every family and every child have a unique situation. Making sure a childcare facility has a very inclusive, compassionate, and diverse setting will encourage individuality within your child. A child developing their personality should be placed in a very inclusive setting to promote personal growth.

How do your caregivers tend to communicate with families?

In what ways does the childcare facility foster growth and individual development for the child?

Is the child able to play and learn in a non-judgmental area that promotes individualized social growth?

The Importance of Establishing a Relationship

– during development, is it important to establish peer friendships to help foster social growth. This helps children begin to understand the concepts of sharing and building self-esteem/ self-confidence.

When a child begins to cry when sharing a toy (etc.), how do the caregivers/teachers handle it?

Is there a social-emotional curriculum in play?

Do teachers/caregivers ask engaging questions about the child's life?

Learning and growing for a child's cognitive development

– childcare facilities with the most current curriculum based on latest research ensures that the child's development is being attended to. The caregiver/teacher should be engaging and striving to develop basic fundamental principles in math and reading to encourage growth. Finding a classroom/facility with similar aged children creates a healthy learning environment that encourages similar brain development between peers.

Is there a formal curriculum that is followed?

How are a child's math and reading skills further developed?

What type of play style is introduced?

Symbolic play, imaginative play, role play, object play, etc.
The Essential Childcare Checklist
Look for accreditation seal of approval

Make a personalized wish list
Understand health and safety policies

Find teachers/caregivers with clean backgrounds
Find a childcare professional that loves what they do

Understanding of the latest curriculum

Look for similar age groups

Go with your gut!
Finding a childcare facility that you trust your loved one with can be very challenging. As a parent, you have to let your guard down and trust another individual to care for your precious child. Knowing the facts and right questions to ask gives you more confidence to make the final and best decision.